Writing for Empowerment Groups
Jumpstart Your Memoir or Life Story
Every author has an origin story. It is the story of how and why you decided to live your dream and start claiming yourself as a writer. 
This 6-week course will jumpstart your memoir or book by reclaiming the origin story you were told about who you were and what you were supposed to be.
By rewriting your origin story, you will discover deeper truths about how you see yourself and relate to others. Sharing your vulnerability will help you connect with readers and universal themes of identity and belonging. 
Map Your Quests Virtual Retreat
This 3-hour virtual retreat will lead you through a process to examine the turning points in your life and map out the many quests that have inspired you to get out of your comfort zone and try something new.
Every shero's journey begins with a quest, either inner or outer, that leads down a path of self-discovery. It may be an inner quest for love, belonging, or self-worth. Or perhaps it is an outer quest for truth, knowledge, or justice.
Knowing your life quests will help you tap into universal themes and connect with readers on a deeper level.
Storyboard Your Shero's Journey
This 6-week course will guide you through a process to take your quest through the stages of the shero's journey. This will help you create dramatic tension that will captivate your readers' attention so they can't wait to read your story.
The shero's journey is a classic framework used in many books and movies. Star Wars, Wonder Woman, Black Panther, and even Disney movies like Frozen us this framework to lead us on an adventure that captures universal values in an entertaining way.
Once you learn this framework, your writing will flow with more ease and power. You will know how to connect with themes that will be recognized by readers around the world.
365 Days to Write and Publish Your Book
This will be a year-long coaching group for women who are ready to commit to writing and publishing a memoir or book of life stories. Now that you have the foundation, it is time to begin the hard work of bringing your book to life.
In this small, structured, supportive group, you will get ongoing coaching, feedback, and support from me and a group of like-minded writers.
Each month, we will explore a different writing skill and put it into practice in our own books. We will discuss successful memoirs and distill the gold from their approach. We will develop a writing practice and commit to producing drafts to be shared with the group. 
If you are serious about getting your book written, this group is the place to be. 
free resource
10 Writing Prompts for Powerful Life Stories
Use these writing prompts to write you next story and see how they connect you with universal themes that resonate with your readers and make your stories more uplifting, powerful, and inspiring.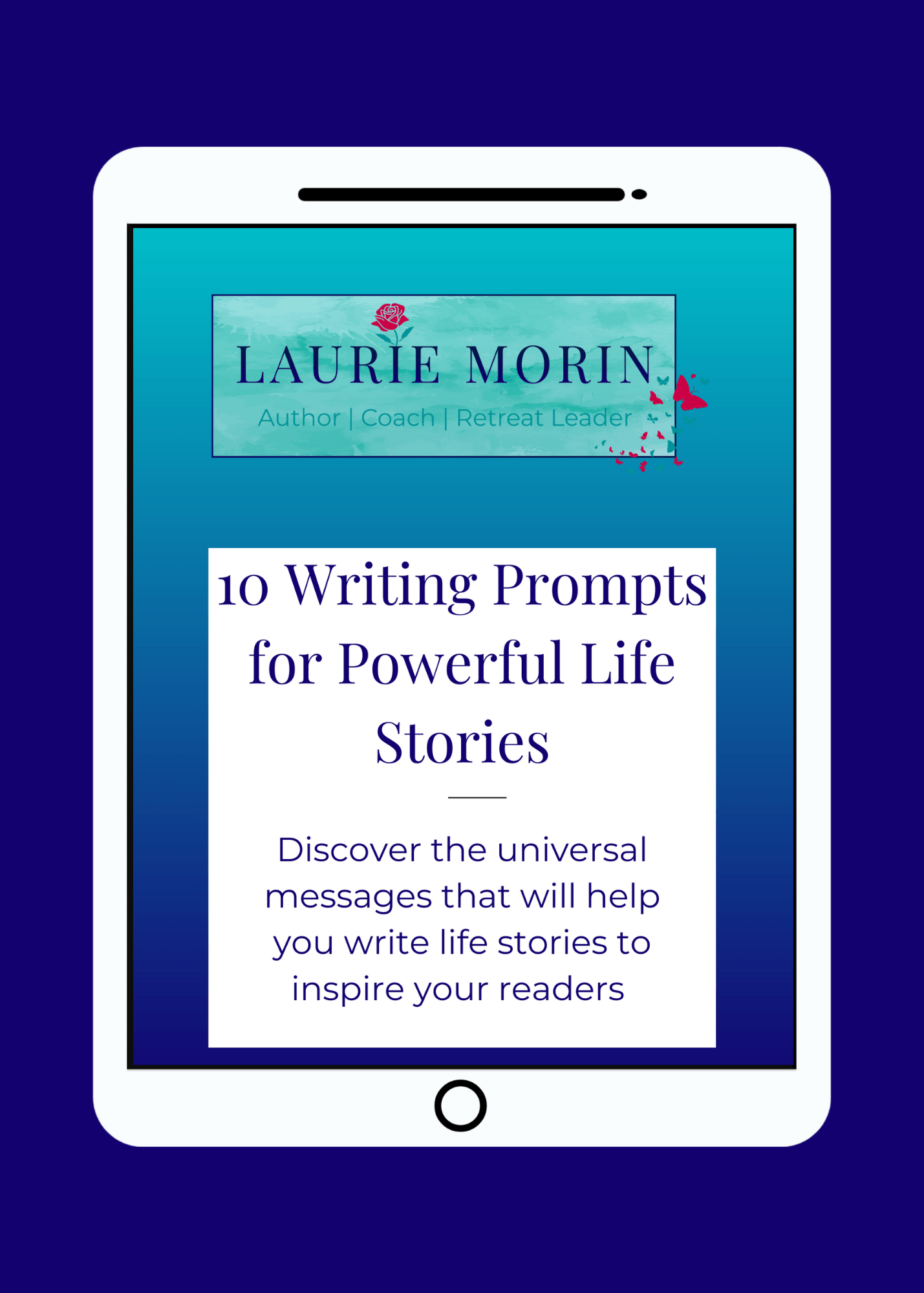 It's been 11 years that I've talked about writing a book and with Laurie's program I actually have seven written stories…Completing the course with Laurie was exactly what was needed to get the project started and now I have a deep desire to finish what has been started. I absolutely recommend this group to other aspiring writers. The weekly feedback from Laurie and the participants was a great benefit.
The shared writings in response to useful prompts and the feedback of the group's response to them was illuminating. Illuminating because they sometimes saw things differently than I expected which caused me to look at things differently…Now I feel that I know where to begin and how to proceed with the story telling. I would recommend this group to folks wanting to share their personal stories in meaningful ways though their writing. 
While I found it really painful to write about my health challenges, the theme that developed (how I learned to trust my inner guidance through this journey) gave me something more interesting and insightful to explore and through writing about that, I really learned a lot about myself and began to think about some aspects of my life in terms of what my challenges have brought out in me and ways they have helped me grow.