Mother's Day is a time to celebrate the mother, grandmother, aunt, or loving caregiver who nurtured our young bodies and souls. For many it is a joyous occasion, a time to give thanks and bask in the glow of a loving relationship. But for others, it is more complicated than that. Our feelings and relationships don't quite fit the sentiments on a Hallmark card.
Especially in this year of the global pandemic, many of us cannot be physically present with our mothers to celebrate. Others are grieving the loss of their mothers from this physical plane. Some of us mourn the mothers we never had, the mothers who abandoned or rejected us when we did not live up to their expectations.
These feelings are real and painful and cannot be minimized. We take a stand for ourselves when we acknowledge them and grieve what can never be.
Yet our souls still yearn for that motherly love, not as a replacement, but as a balm for the wound we have been dragging around like a rusty anchor on a stormy sea.
Our patriarchal society projects impossible expectations on our notion of motherhood. We put mothers on a pedestal, expecting them to be all-loving, all-nurturing, and all-giving. Then when they don't live up to those expectations, we demonize them as unnatural and unfeminine. Yet mothers are only human, and there is a shadow side to motherhood. They may feel resentful at the dreams they put on hold, and project this on their children by living vicariously through them. They may expect perfection in return for their love, or smother their children because they fear losing them. They may be facing other demons that make it impossible for them to love unconditionally. They may neglect or abandon or even abuse their children because of their own demons.
This paradox does not suit the simplification of a Hallmark holiday, but it does provide a lens through which to view our mothers with more compassion and understanding. We can feel more connected to our mothers when we recognize their humanity and frailties as manifestations of their own upbringing and societal expectations.
We will finally break free of our longing for the perfect mother when we recognize and embrace the Divine Feminine within. This is not just for the women among us. The Divine Feminine knows no race, gender, sexual orientation, or socio-economic status. She resides within us whether our human bodies identify as male or female, cisgnder or transgender, gay, lesbian, bisexual, queer, or anything in between.
So what is the Divine Feminine within? It is our soul's manifestation of the essential aspects of the Yin energy — generally associated with more introspective, creative, nurturing, and grounded qualities. The goddesses of ancient mythology represent aspects of the Divine Feminine that resides within. We can call upon them to guide us to become a loving and nurturing presence for ourselves.
We begin to heal when we embrace the energies of the Divine Feminine and use them in service to our own souls and the collective well-being of all living things.
I invite you to join me in a ceremony to honor the Divine Feminine within, to prepare your sacred place before the festivities of Mother's Day begin. You can view the recording on Facebook Live any time you have a free moment to focus on loving and honoring yourself. If you missed the video, you can use the words to the prayer below to perform your own ceremony.
---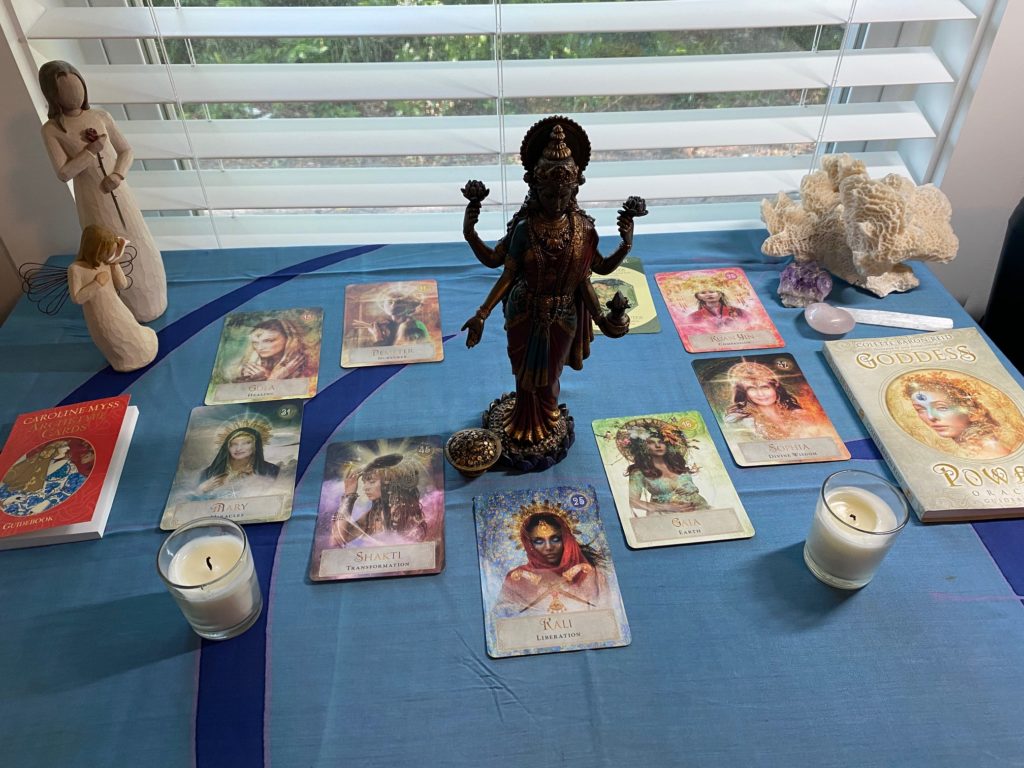 Prayer to the Divine Feminine
We are gathered here today in honor of all the Mothers and Caregivers of the world. We call upon our angels and guides to lead us to that place within where the divine feminine resides, so that we may learn to nurture and love ourselves unconditionally.
We pray to Kali, the goddess of death and rebirth, to help us destroy all the unfounded negative beliefs we have about giving and receiving love. For it is only through the death of that which no longer serves us that new ways of being can emerge.
We call upon Shakti, the goddess of transformation, to help us change our relationship with ourselves, so that we may nurture ourselves and love ourselves unconditionally.
We seek blessings from Mother Mary to bring us the miracle of pure love and acceptance of all that is.
We pray to Gula, goddess of healing, to provide balm for our wounded souls. We beseech Demeter, the great nurturer, to hold us in her loving heart.
With the compassion of Kuan Yin, we offer comfort to our wounded inner child. We ask for the divine wisdom of Sophia to fill our spirits with understanding.
We give thanks to Gaia, our precious Mother Earth, for her abundant gifts, and we vow to partner with her to protect our planet and all its living creatures.
Unconditional love is our birthright, represented by the divine feminine within. We recognize that we are not separate, but part of an intricate web of divine love that connects all living things. As we give and receive love, we help raise the vibration of the entire planet. Let us live in harmonious vibration with the frequency of light and live.
And so it is.