She was sitting at the kitchen table all decked out in a black and white striped tuxedo shirt. I was taking my Mom for her first trial day at adult daycare, and she was anxious, excited, and a little bit apprehensive — looking like a kid on their first day of kindergarten. 
 "It's raining, Mom," I said. You'd better wear a raincoat."
She sighed in disappointment, not wanting to cover up her outfit. It reminded me of all the times as kids when we resisted putting on our hats or mittens or snow boots. She had to threaten to take away my reading privileges to get me to comply, but I had a better idea. 
 "How about wearing that red and black rain jacket?" I said. "That would look cute with your outfit."
Whew! That worked. Mom asked me to find the rain jacket in her front closet. She remembers every single item of clothing that she owns, but her macular degeneration has progressed to the point that it is hard for her to distinguish one color from another.
As we were ready to walk out the door, she looked at me panicked and said, "I can't find my pocketbook."
For years my mother has hung her pocketbook on the pantry door know, but that morning she decided to switch purses to a different purse that would match her outfit. 
So off we went in search of the new purse. Mom followed me through every room room of the house as I examined pocketbooks hanging on doorknobs, hooks over the door, and stacked in piles on the closet floor. Finally I thought to look in the living room that has become her combination TV and bedroom. There it was sitting on her favorite chair, but alas it was empty!
 My guardian angel nudged me to look on the kitchen table, and there were her wallet, keys, and the Vicks she carries around to help her breathe. I threw it all in the pocketbook and we finally headed for the door with her portable walker in tow, complete with basket decorated with apples and fall foliage.
 Such is a 1/2 hour in life with a 89 YO parent still living alone despite her blindness and dementia.
The Sandwich Generation
I know I am not alone living this story. With advances in medicine, we are living longer and healthier lives at the same time that many women have postponed having children while they establish their careers. A New York Times article in 2019 revealed that about 15 percent of people in their mid-twenties to mid-fifties spend some time caring for an older relative. That number jumps to one in five Americans 55 to 64 years old. About 20 percent of these caregivers also have children at home.
At a recent retreat with women who ranged in age from their thirties to their 70's, most had experienced the demands and rewards of caregiving. One woman had her elderly mom living with her. Another had nursed both her mother and her sister in her own home until they passed away. Two women were raising special needs children while juggling the needs of an aging parent. Nearly every woman there had a story about the stress of taking care of others while not having enough time for themselves.
When we reach middle age, we become part of the sandwich generation – still raising our own families, juggling a career, and having the responsibility for parents who need our help.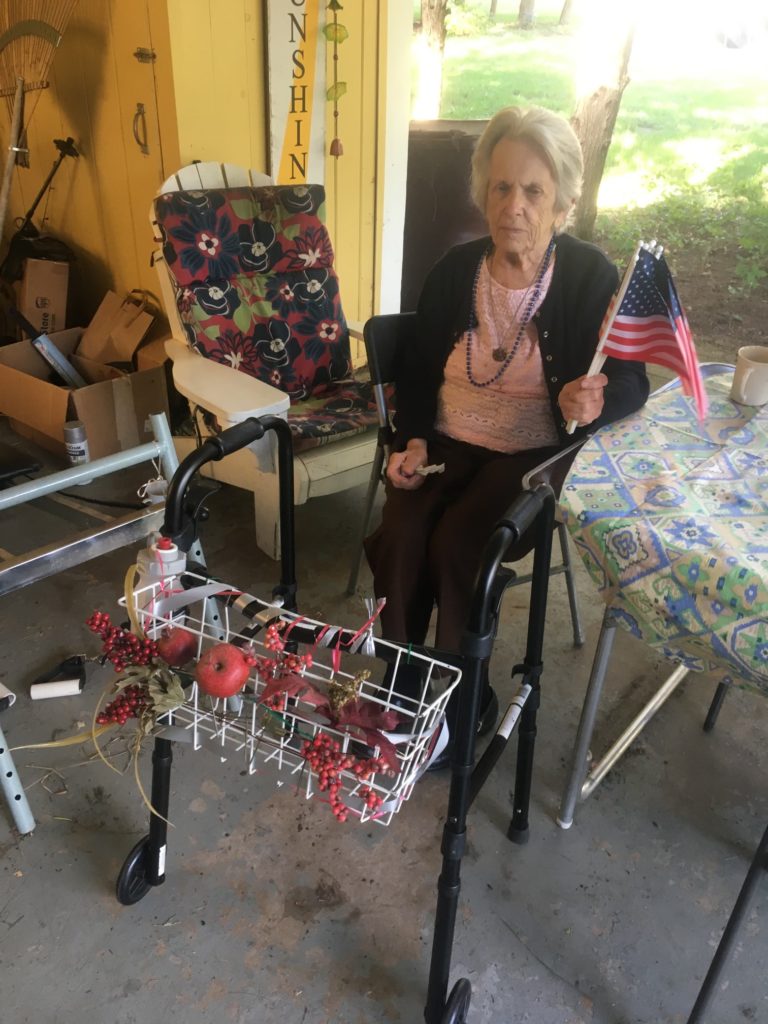 At 69, I am one of the older women fortunate enough to still have a living parent. This is mostly a blessing, but it also puts a strain on the plans I had for starting a new career in mid-life.
The physical and logistical demands are real, but the emotional toll it takes on our mental health is an equally important part of the story.
"The great thing about getting older is that you don't lose all the other ages you've been."
Aging & Role Reversal
My mom was only 19 when I was born. Until my dad died 10 years ago, she was robust and healthy and full of energy. People were always amazed at how young she looked and acted. Her decline has been slow but steady. Seeing her again after 18 months of COVID, I realized that she has become frail and needs more assistance than she lets on. Her anxiety, which was always buried beneath the surface, has become a daily struggle.
For many years, my mother was the rock of the family. She always came through in a crisis, never bought anything for herself, and gave selflessly to make sure her family was stable and secure. She rarely showed her emotions, holding it together even in the most difficult circumstances.
She trained us to be strong, work hard, and be grateful for what we had – even during the years when we wore hand-me-down clothes to school. It was quite a shock when she started losing things, needing help to pay her bills, and crying at the drop of a hat.
My nephew lived with her and managed her meals and medications for a couple of years, but recently he moved on, leaving a big void in her life.  As the oldest child and only daughter, I became her sounding board for all the indignities she felt she was suffering.
There were so many things she could no longer do. Going down to the basement to do her laundry was too treacherous. She had always prided herself of how beautifully she washed, folded, and ironed the clothes. My nephew did things differently, throwing everything in together and giving it to her in a big heap of wrinkles.
She could not see well enough to use the stove, so my nephew did all the cooking. She wanted to be involved in ordering groceries and planning menus, but he was not organized in the same way and usually called an order in at the last minute when they ran out of staples. He fed her well but did not believe in regular mealtimes.
All her life, the telephone was my mother's lifeline to the world. She spent hours every day talking to her sisters and friends about the latest episode of Days of Our Life and The Voice. Now, she could not see to dial the telephone, so we bought her an Alexa Echo. That helped for a time but then her friends started slowly getting ill and dying. One friend she has known since elementary school calls her every evening and provides a connection to the memories that sustain her.
Technology has been a saving grace, but it also is foreign and scary. Mom couldn't remember to take her pills, so we bought her a machine that automatically dispenses them. Now when she calls in a panic because she can't remember, I can look at the app on my phone and reassure her that she took them.
We got her a voice-activated TV clicker, but she can't find the right buttons to push to turn it on or change the station.
When she could no longer see to use the microwave, we bought her a smart microwave that she can operate with Alexa. For Christmas, we are planning to get her an Alexa-operated TV.  
After my nephew moved, Mom started to get increasingly depressed. She kept telling us she had no reason to get up in the morning. She had no sense of purpose in her life. When we tried to discern what would give her purpose, it was all the little things she did in the past to help people – cooking meals, ironing clothes, organizing closets, and otherwise working behind the scenes to make our lives a little bit easier. Now she was dependent on others to do those things.
When she lost her ability to care for others, it ran headlong into the stories that had been passed down through generations of women in her family. Her sense of worthiness depended on what she was able to DO for others. She had never learned it was enough for her to just BE her own unique and wonderful self.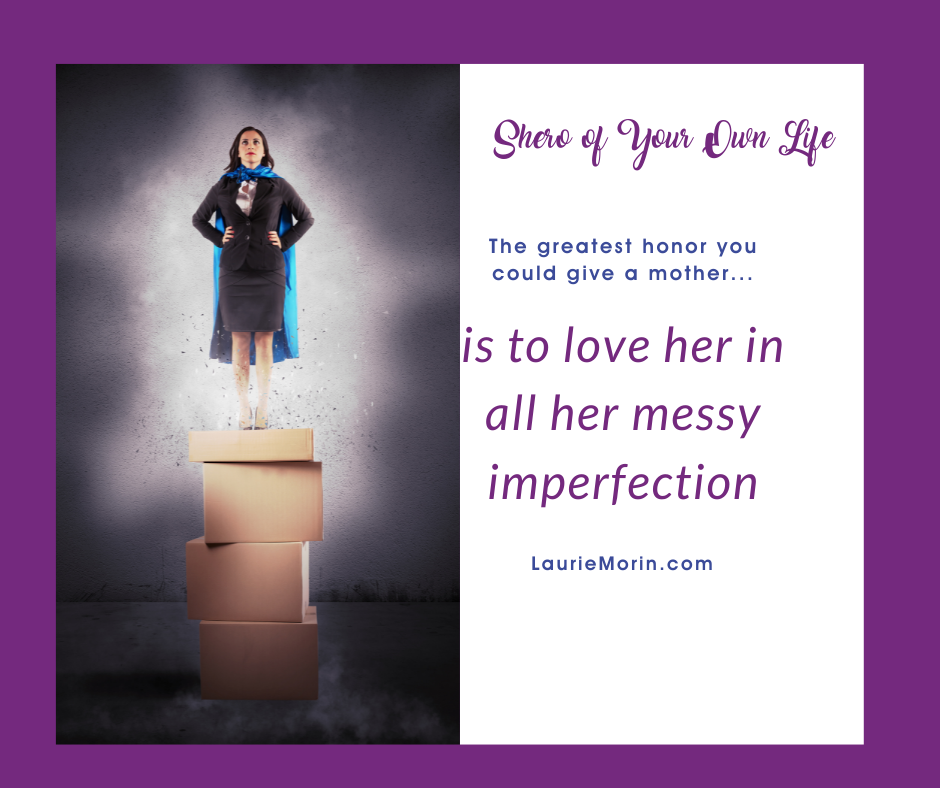 Origin Myths
"Each of us has an origin story, too, usually a combination of the stories we have heard from family mixed in with key emotional memories from our childhood. I call them our origin myths, because they were passed down to us through the eyes of others and don't represent our own truth. Each generation carries the weight of its ancestors unless we learn to question cultural expectations and choose our own paths." ~ Laurie Morin, Shero's Journey
The Legacy of Ancestral Stories
From my mother, I learned that a woman sacrifices everything for the good of her family. She works mother's hours to be home when the kids get home from school, bakes cookies for the PTA, and serves as a troop leader for the Brownie Scouts. She takes care of other's needs before her own and doesn't ask for help unless it is a full-blown crisis. 
As a young woman I rebelled against those roles, but at the same time internalized the cultural expectations. When I retired from my job as a law professor, I felt guilty about moving to North Carolina and starting a new career instead of moving back "home" to care for my mother. In my heart, I felt that I should put family first and sacrifice my own dreams. Still, my head told me that would not be healthy and it was time to change the ancestral patterns.
I do as much as I can for my mother from a distance. I pay her bills, line up support and resources, and talk to her on the phone every day. My partner and I have invited her to live with us in NC, but she is not willing to leave the city she has called home her entire life.
Still, it is hard not to feel that I am not living up to the standards set by my mother and her sisters. When my grandmother spent the last several years of her life in a nursing home, they went to her room every evening to rub lotion on her skin and sit with her until she went to sleep.
I grew up feeling like an alien in my family because I did not want to stay in my small hometown, have a family, and go to my parents' house for Sunday dinner every week. I wanted travel, adventure, and a career, and my mother did not seem to understand what was important to me.
I used to believe that my mother did not love the real me, but now I see that our stories are not all that different after all. We both want to be loved and valued for who we are and what we have to give. We just have different ways of expressing that love.
It is still challenging to deal with the daily indignities of getting older, but it is giving me a chance to open my heart and practice compassion. I think my mother's final gift to me is facing my own fear of mortality and realizing the importance of self-love. 
They say the third stage of life, after raising a family and retiring from a career, is all about deepening our connection with spirit. That is why it is so important to love ourselves for who we are and not for what we do. When we reach the end of our time here on earth, that may be all we have left.